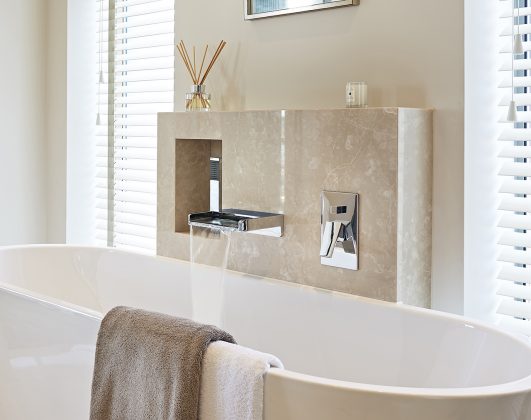 Cranbourne Stone prides themselves on the ability to produce beautiful pieces from natural stone. Natural stone brings luxury to your home and bathroom along with the feeling of natural textures and colours.
Using stone in your bathroom to create luxury bespoke stone features alongside stone bathroom tiles can create some stunning results. Spending time planning and creating these bespoke features in your bathroom can give a truly unique luxury finish.
We can help you choose the best stone for your project and our skilled team can help design and fit bespoke stone bathroom features. When paired with luxury stone floor and wall tiles you can create that unique and special finish for your bathroom.
As you will see in our gallery below, our understanding and knowledge of working with stone allows us to design and create items that are truly unique and special.
We are happy to work from architects drawings, however, in our experience the need for a site survey to measure exactly the structures we are fitting onto is imperative. Our skilled fitters will deliver and fit the completed items, ensuring a first class finish.
Choose from an array of granite, marble, quartz or man-made materials such as Lapitec®, a virtually indestructible product which is a stain, mould and heat resistant. All of these stone products are suitable for bathrooms.
We have a huge range of stone products in stock at our base in Hampshire.
Contact us about your project and we would be happy to advise on selecting the right product to suit your requirements. You can also visit our showroom in Stockbridge, Hampshire where we can give you expert advice and assistance.
For more information or advice please call 01264 810813
or contact us via email
Contact us