Whilst Swimming Pool Coping Stones are a functional part of any swimming pool, they are also an opportunity to make your pool truly unique and special.
Swimming pool coping is the edging material above the pool tile line that surrounds the top of the pool edge.
This coping stone also serves as a frame around the pool, very much like the frame around a painting. Like the frame of a painting it gives the pool owner the opportunity to make something look stunning and unique.
The pool coping effectively separates the pool structure from the pool decking or pool surround. This gives further opportunity to create a unique design for both pool and pool surround. Overall, there are many paving options available for both swimming pool copings as well as pool surrounds, including matching deck level grilles. Whether you are looking for natural stone or porcelain coping stones we have a fantastic selection of colours and finishes to give your project an exceptional and unique finish.
Coping and any surrounding paving comes in many different materials and Cranbourne Stone are the biggest supplier of Swimming Pool Coping Stones in the UK. We have been supplying exceptional natural and man-made stones for pools, landscaping and interiors since 2004 and our reputation is second to none.
UK's Biggest Range of Highest Quality, In Stock and Bespoke Pool Coping
The result of our extensive experience is a selection of natural stone for swimming pool projects made from an array of Sandstone, Limestone, Marble, Travertine, Granite, Basalt, Porcelain and Lapitec®, offering the very best in style and functionality. We have a range of standard pool coping stones to choose from as well as the capability to produce bespoke stone works to suit every project. We are experts in bespoke coping stone for free-form shaped swimming pool projects and specific designs are made to order but many variants are also available from stock. Please contact our friendly office staff for more information on stock, current prices and availability.
Our Range of Pool Coping Stone – In Stock & Bespoke
Chattis Black Basalt
Granite
Marble
Limestone
Porcelain
Sandstone
Lapitec
Travertine
Swimming Pool Coping Options
Freeform bullnosed coping

Square Edge with pencil edge top and bottom

Porcelain Over-lip coping with automatic pool cover system

Full Bullnose with Automatic Cover Channel

Full Bullnosed with liner Lock

Bullnosed Coping in contrasting colour (to define the edge)
Edge Profiles
Full Bullnose

Half Bullnose

Arris Off

Overlip

Pencil Top Only

Pencil Top and Bottom
Swimming Pool Coping Components
Straight

90 degree external corner

90 degree internal corner

6" radius external corner

6" radius internal corner

Left hand pick up

Right hand pick up

Internal radius

External radius
Our stunning range of pool surrounds, coping and grilles is ever expanding and our materials are selected specifically for this purpose. We have standard stock sizes, corners and Roman end kits, in both natural stone and porcelain – including non slip finishes. Flexible delivery options available – contact us for details.
For details of our full range, expert tips, inspiration and advice as well as technical specs download our latest brochure!
Our bespoke service is available for more complex swimming pool projects.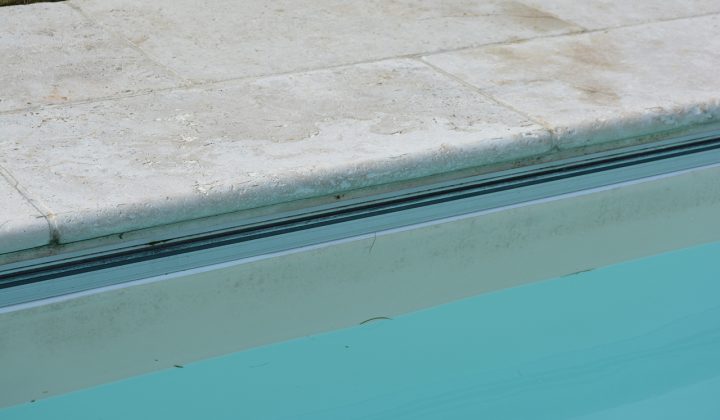 Straights (Standard)
Our range of straight coping stones are available with different edge profiles. Straight copings can be made from our full range of stone, with the exception of an overlip profile where only select materials are available. All straights are stock items.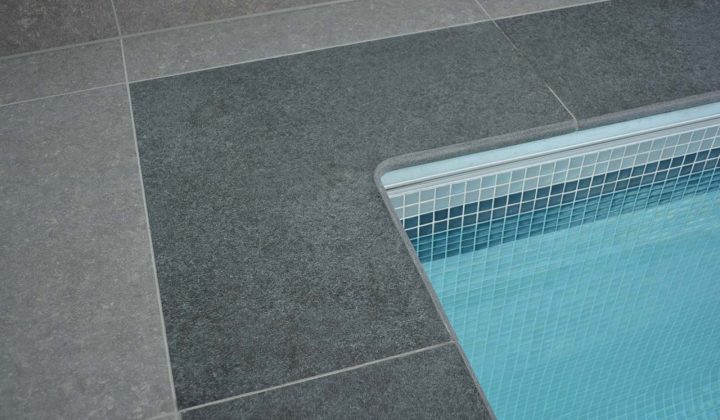 Corners (Standard)
Our standard internal or external corners come as either 90° or 6" radius. Different edge profiles are available with the exception of the overlip profile. Mitred corners are recommended for bonded overlips. All corners are stock items.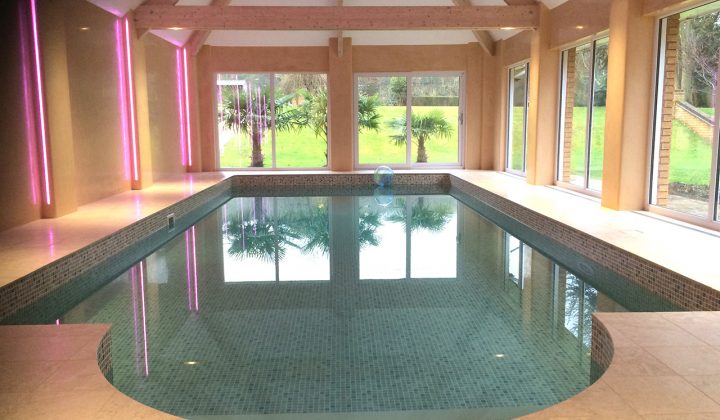 Roman Ends
Coping stones for swimming pools with Roman ends are stocked as standard in 4', 5' and 5' low profile variations. Roman ends can be made in all of our stones and all edge profiles with the exception of the overlip. Bespoke Roman ends can be templated via our professional services.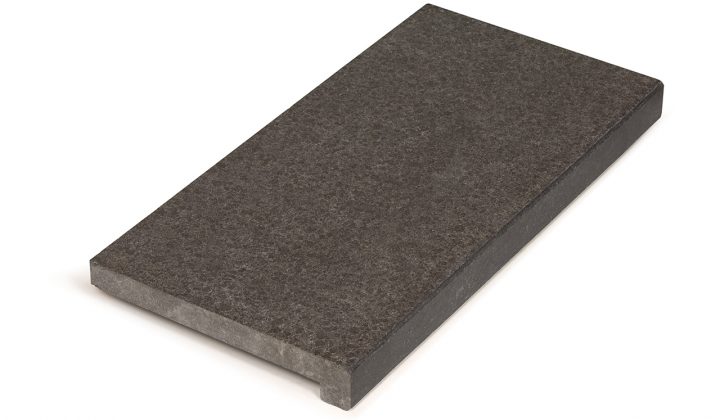 Overlip (Standard)
Standard overlip coping stones are machined to form a 50mm lip on the front edge. These copings give the appearance of thicker stone with the lip overhanging concealing the pool edge. Available in select materials as straight and 6" radius internal corners only.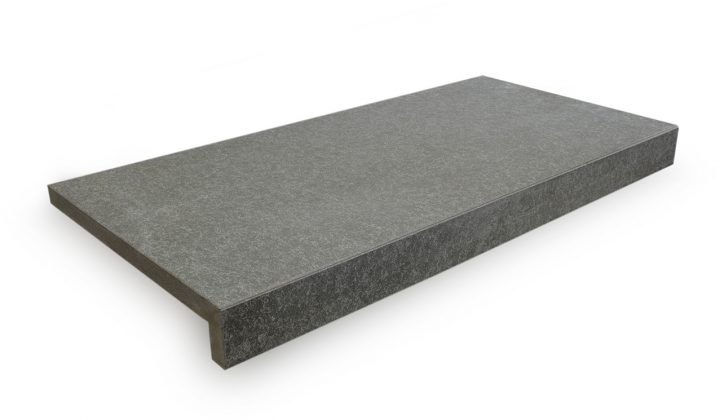 Overlip (Bonded)
A bonded overlip coping allows us to produce this style of edging profile in a greater array of stone types, including porcelain and Lapitec®. A very contemporary look with clean lines. Larger format copings are also available for specific or bespoke designs.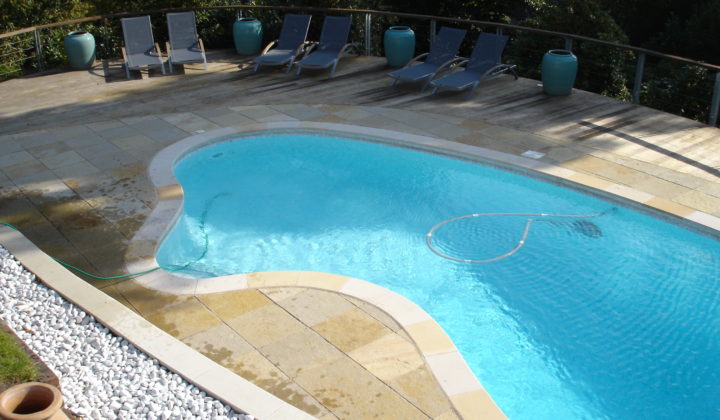 Bespoke & Free-form
For bespoke swimming pools, our free-form copings are custom made to measure in-house. A digital survey of the pool is conducted which is imported into AutoCAD. A combination of cutting with our 5-axis CNC bridge saw and waterjet technology results in a perfectly formed coping.
For more information and advice on choosing a suitable coping for your swimming pool please contact us direct
For more information or advice please call 01264 810813
or contact us via email
Contact us